The Hog Fire and Mr. D.
A Fable of Sorts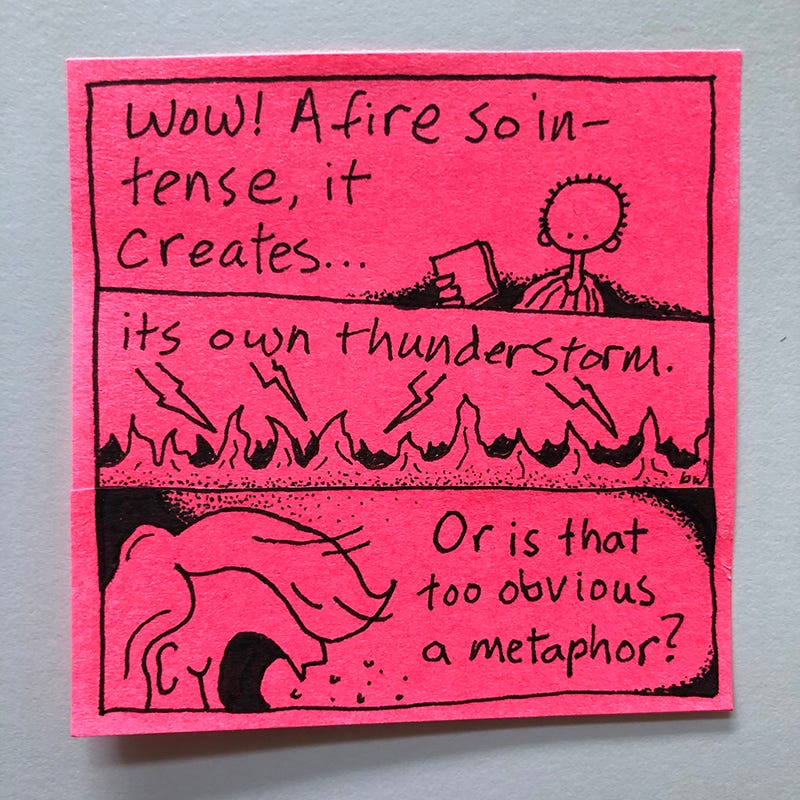 Blurb 1
Things Be Heating Up
I have a day job, so fell behind on this and other stories. But the Hog Fire, in Lassen County, California, is quite a fire — and more than an ordinary fire. From the Washington Post (with thanks to subscriber Lerissa):
"But fire officials have been getting a little bit of help, thanks in part to the fire itself. Twice in two days, the Hog Fire has helped produce its own thunderstorms, which then dumped rain on the flames below…"
Of course, the thunderstorms supplied by the man in panel three above are not designed to drench the fire, but to fan the flames. To wit:
---
Blurb 2
Want to Fight Violence? Then Get Some Made-for-TV Facism Going
Do a quick Google search, and you can find many reliable sources who say the protests in Portland were largely peaceful — until the feds stepped in.
"To look at it from any standpoint, the effort to shut down policing in their own communities has led to a shocking explosion of shootings, killings, murders and heinous crimes of violence," Trump said at the White House on Wednesday. "This bloodshed must end. This bloodshed will end."
The deployment against anti-racism protesters is a ploy to burnish his strongman credentials, critics say – Trump is pursuing made-for-TV fascism, with the imposition of federal forces into US cities against the will of local authorities.
Get the whole story from The Guardian.
---
Blurb 3
And the Storm Heads Indoors
The White House press briefings have become newsworthy mostly for their lack of being newsworthy.
Under Kayleigh McEnany, the White House press briefing has become a streamlined, full-throated advertisement for a president facing re-election, a venue for attacks on the media and a forum relatively light on information about what government is doing.
The Associated Press has the story.
---
Outro
Thanks for reading this far. Be safe.
Brian Woolsey
Writer. Artist?