Dying Words
Party on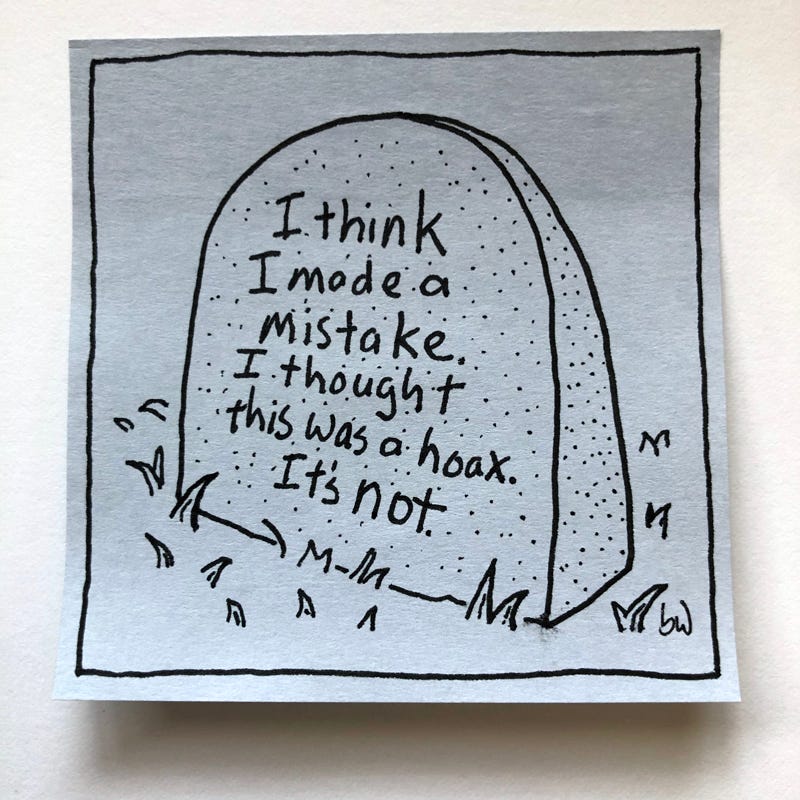 Blurb 1
How Many More Before We, as a Nation, Wise Up?
I have been struck over much of my adult life about how small decisions can have big — and sometimes tragic — consequences. Like, "Heck, yeah, I'm going to tonight's COVID party."
"Just before the patient died, they looked at their nurse and said 'I think I made a mistake, I thought this was a hoax, but it's not,'" Appleby said.

Appleby made this case public as the spike in cases for Bexar County continues. She wants everyone, especially those in the younger demographic, to realize they are not invincible.
Just 33 years old, and life is finished. On one not-very-wise decision, perhaps informed by the alternative-facts media.
---
---
Blurb 2
And a Lot More Dead by the Time You Read This
Somebody, somewhere, who is terrified and doesn't know it, is already saying the story above is fake, a manipulation designed to trip up you-know-whose re-election. Well, if so, there are 138,000 more fake stories in the United States, 571,000 worldwide.
---
Blurb 3
Denial Rising
In the United States, though, such actions — both the acceptance of reality and doing something about it — may have been delayed in part because of our cultural and national sense of invulnerability, as well as a desire not to feel anxiety or other, worse feelings.
Wait. Americans don't like to feel? From Think.
---
Outro
Thanks for reading this far. Take care.
Brian Woolsey
Writer. Artist?
---