A Simple Request
A new moniker for a new age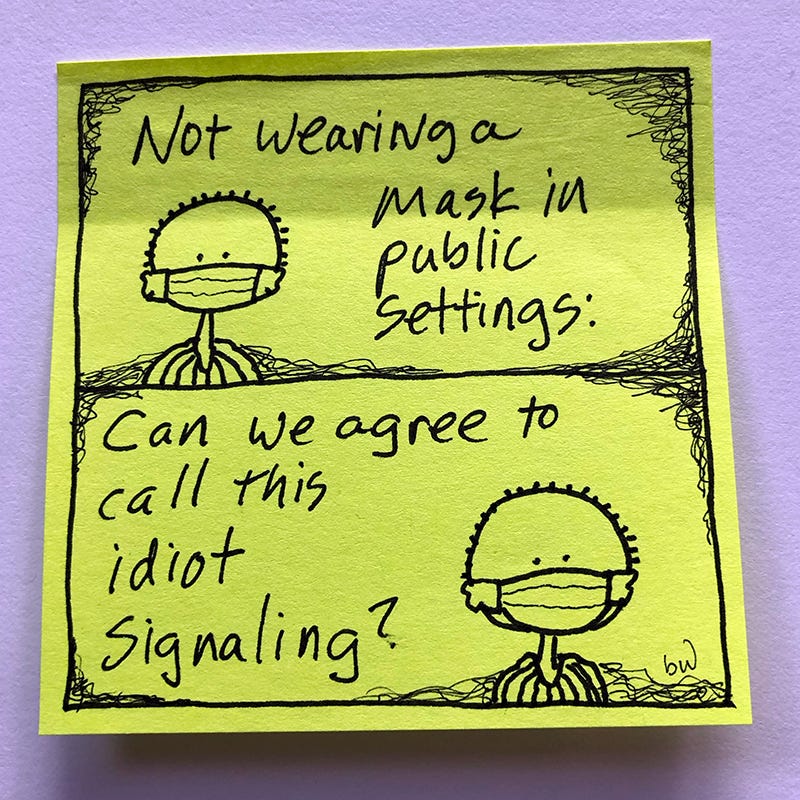 Blurb 1
Living in an Alternative Dream World
From Alabama comes news of an elected official who was one of three who didn't wear a mask to a recent State Senate budget committee meeting, and who said:

"I'm not as concerned so much as the number of cases. In fact, quite honestly, I want to see more people [get sick with COVID] because we start reaching an immunity if more people have it and get through it."

This is another elected official, ignoring the science, and ignoring that the Governors of Florida and Texas largely ignored the science and reaped the rewards with spikes in cases.
This is Alabama Senate Pro Tem Del Marsh. What Marsh is after is herd immunity, which, as it turns out, according to this opinion piece, from which this blurb is drawn, may not be possible. In fact, simple immunity, the author says, may not be possible. But Marsh sees no problem in trying. Yum!
What I appreciate most, though, is Marsh's example of the dangers of certitude. From the opinion piece:
Marsh is not a physician, but he thinks he knows better.

Marsh is not an epidemiologist but he thinks he knows better than them, too.

Marsh is not a public health expert, a virologist, a contagious disease specialist nor even a hospital orderly.

He's not the governor or the state health officer, but he thinks he knows better than them, too.

None of those people's opinions matter because Marsh has read some things on the internet.

Living in an alternative dream world isn't a new thing for the senator. Throughout the coronavirus crisis, Marsh has second-guessed experts and bedeviled Gov. Kay Ivey in those rare moments when she has shown leadership.
Thanks, Jack.
---
---
Blurb 2
Got Tulsa on My Mind
Heramain Cain, a 2012 GOP presidential candidate, has been hospitalized with COVID-19. From the Associated Press:

It's not clear when or where Cain was infected, but he was hospitalized less than two weeks after attending President Donald Trump's campaign rally in Tulsa, Oklahoma.

And Forbes reports Cain likely isn't the only person suffering from Trump rally fallout.
---
Blurb 3
"But What About the Health Risks of Wearing a Mask?"
Some people think that if you wear a mask for long periods of time you will trap and breathe in excess amounts of carbon dioxide, which could lead to brain damage. That's just not true.
Per our very knowledgeable friends at Stanford.
---
Outro
Remember, when you see someone not wearing a mask in a public setting, that's idiot signaling. Not believing humans are contributing to climate change? That's idiot signaling, too.
Thanks for reading this far. Be happy.
Brian Woolsey
Writer. Artist?

P.S. Herman Cain is an interesting man, with an interesting Twitter feed.
---