A Message from Large Richard
On the rejection of masks and the psychology of "No"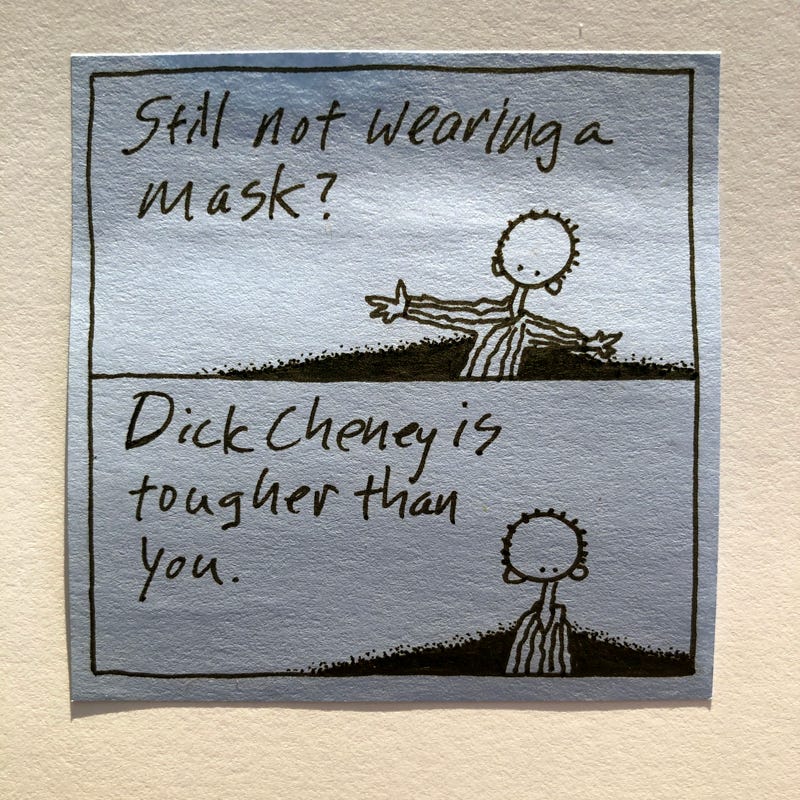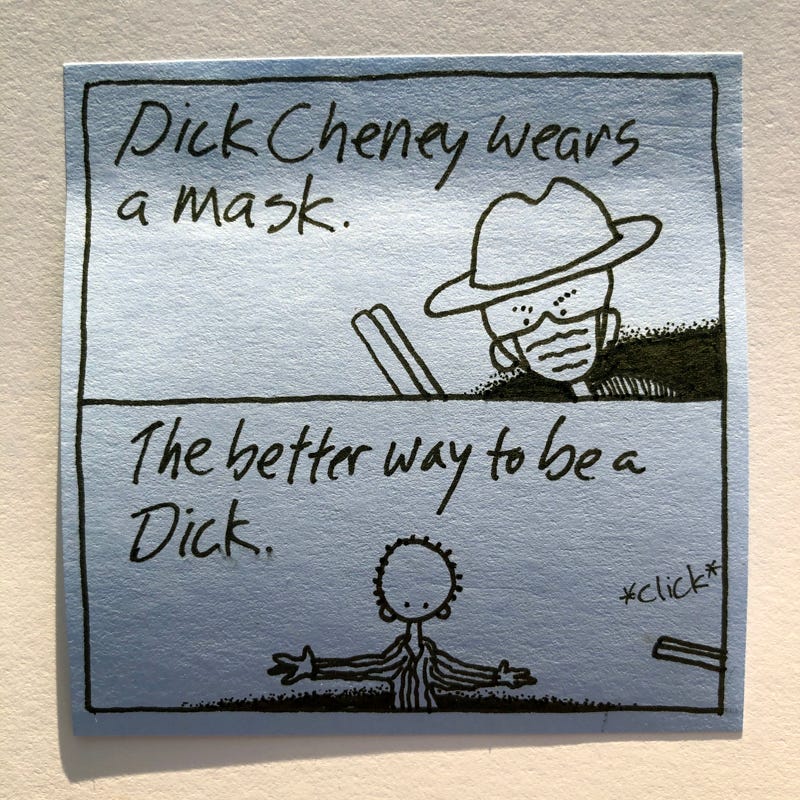 Blurb 1
Six Weeks to Heal a Nation
Dr. Robert Redfield of the Centers for Disease Control says we can subdue this beastly virus in six weeks—if only we can all agree on one little thing:
"I think if we can get everybody to wear a mask right now, I really do think over the next four to six, eight weeks, we can bring this epidemic under control,"
---
Blurb 2
The Psychology of Not Wearing a Mask
In a culture of hyper-masculinity, it makes sense that some men, in particular, would reject wearing a mask, a circumstance which Scientific American details in an article titled, vividly enough, The Condoms of the Face: Why Some Men Refuse to Wear Masks.
Social dynamics, of course, come into play:
"We find that when beliefs become shared by social groups and are part of how we identify that they are very difficult to change, even in the face of scientific evidence … Sharing beliefs is one of the ways we bond with others, and the desire to bond with others is so strong that often it distorts the objective evaluation of information."
More over at the Association for Psychological Science.
---
Blurb 3
Failing The Mask Test, and We Will, There's Still Good News
The vaccine from Moderna works so far, reports Reuters:
Volunteers who got two doses of the vaccine had high levels of virus-killing antibodies that exceeded the average levels seen in people who had recovered from COVID-19, the team reported in the New England Journal of Medicine.
---
Outro
Let's call this one The Death of the Roses:
Today is July 15th. The Rose Parade, scheduled for January of next year, just got cancelled for the first time since World War II. (That time, we were on the winning side.)
Thanks for reading this far. Stay safe.
Brian Woolsey
Writer. Artist?
---