A Good Comrade
Russia pays bounties, America delays payback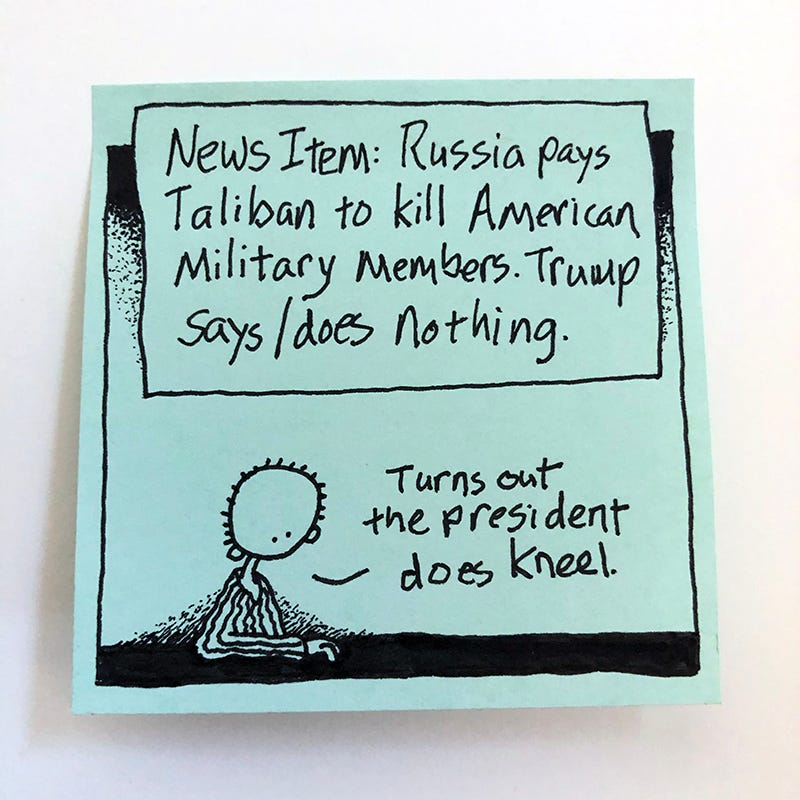 Blurb 1
Not only kneels… bows. To Putin.
This story, of course, is all over the place — and the "White House has known for months." But, as I write, it shows not on the Fox News website. Anyway, President Trump's admiration for Vladimir Putin is nothing new. Nor is the fact that Putin has goals that are, let's say, less than American.
---
---
Blurb 2
Today's most recommended reading
Nothing I read this morning gives a better summary of the situation and how much the President has bent Putin's way since he learned of the bounties on American Military personnel than the newsletter of Boston College Historian Heather Cox Richardson.
---
Blurb 3
The coronavirus kneels to no one
Two days, two record numbers of reported new cases: 39,972 on Thursday, 44,702 on Friday. Some states that reopened, aren't.
---
Outro
The source of today's comic punchline, as it were, came from the Trump campaign, and their mocking of presumptive Democratic Presidential Candidate Joe Biden. Turns out Trump kneels, just in the wrong direction.
Thanks for reading this far. Be safe.
Brian Woolsey
Writer. Artist?
---